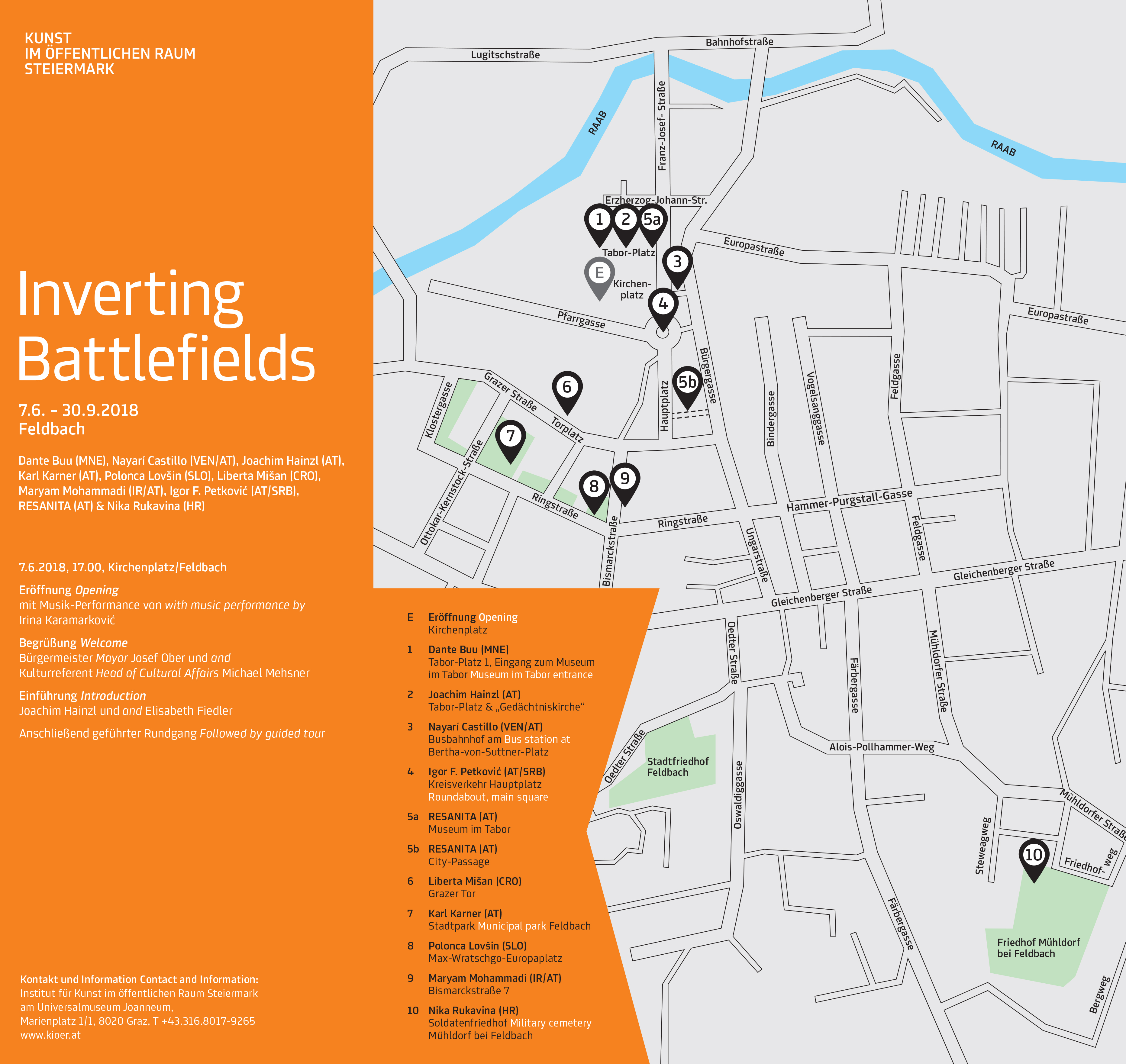 Dante Buu (MNE)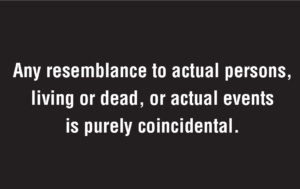 Untitled
Tabor-Platz 1, entrance Museum im Tabor
Plaque
If we were together and parted ways, words would be all that remained. Words about us, words about you, words about me; words to recount the story of two different perspectives, never in agreement, always a slanted version of events. In his artistic practice, Dante Buu deals with these coloured and one-sided versions by making use of a set phrase frequently employed as a disclaimer in films ("Any resemblance to actual persons, living or dead, or actual events is purely coincidental"), calling into question the veracity of individual and collective narratives. Like a person's individual history, collective history too can also be conceived as a work of fiction, with the subjectivities and partialities of its authors precluding alternative narratives.
Born in Rožaje, Montenegro, in 1988. Lives and works as a visual artist in Vienna, Rožaje and Berlin. Rooted in intimacy, Dante Buu's work examines the harsh sociocultural milieu and pervasive sense of alienation that dominates society by using a wide range of media.
Nayarí Castillo (VEN/AT)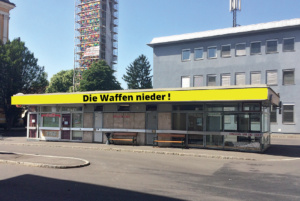 Lay down your arms or 65536 peace memorials
Bus station Bertha-von-Suttner-Platz
Installation
In 2014 the square surrounding the station building was named after Bertha von Suttner, an Austrian pacifist and feminist who received the Nobel Peace Prize in 1905 for her convictions and visionary stance against weapons of mass destruction. In her book Lay down your arms she described the horror and atrocities caused by war. Inspired by this exhortation, which continues to be relevant today, Castillo transforms the station building into an emblem of the hope for peace. Being visible from afar, it gives a voice to Bertha von Suttner, the eponym of the square. In a second part of the work, the artist has turned the bus station into a playful and poetic repository: in collaboration with the writer Jacqueline Goldberg she has designed a construction game aimed at creating 65536 peace memorials.
Born in Caracas in 1977. Molecular biologist and artist. Castillo lives and works in Graz where she is currently researching at the Institute of Spatial Design (Graz University of Technology) and working on several projects focusing on spatial research, art in public space and social sustainability. In her installations, Castillo deals with specific spatial constructs, using videos, objects, texts and photographs as communication tools.
Joachim Hainzl (AT)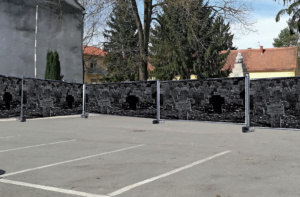 NO MORE WAR!
Tabor-Platz & "Gedächtniskirche"
Installation, Performance
What goes to make a hero? Why are we proud to erect stone monuments to historical figures who lived in enmity with others, fighting and killing in the name of inhumane ideologies? And in doing so, what values and principles do we wish to pass on to future generations? The interpretation of historic events is a project that can never end. For a few months, the installation eclipses the monuments that venerate and honour the memory of dubious heroes of both World Wars. Instead it allows us to reflect on the pointlessness of killing our fellow human beings, signifying the call for a furture without soldiers. In the adjacent Gedächtniskirche church a flowerrain will symbolise the hopes for a healing and peaceful future without war in a performance at the finisage.
A social historian, cultural scientiest, human rights activist, collector and artist, Joachim Hainzl has been active in Graz for more than twenty years. During this time he has collaborated on several projects including a number of key transnational initiatives focusing on migration. Founder of XENOS – Verein zur Förderung der soziokulturellen Vielfalt.
Karl Karner (AT)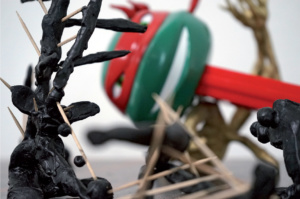 Time is left for the next
municipal park Feldbach
sculpture and Installation
"How long does it take for a monument to turn into a dubious memorial to false heroes? / time thinks in its time und disappears into the future / heroes and stones are similar to one another, each consisting of 6 letters …" (Karl Karner). What are monuments, on which and on whos behalf are they erected, which meaning does they have on situated memory for whom and for how long? Karl Karner is asking for the relevance of monuments and if a permanent installation of monuments is still valid? Which sense is behind heavy materials and the changeability of history? With a hint to the narrowness of life and occupation of parks and landscape by monuments, which aren't noticed any more, he oppose the myth of heroes with volatility and caducity. With a view on stony monuments, which does not create any questions, Karner produces with guests some miniature sculptures and performative sets as a gesture of facileness and disappearance as a sign of neglection at municipal park. A contemporary debate and with it a new perception of monuments should be induced.
Born in Feldbach in 1973. Trained as an art caster; studied at the Academy of Fine Arts Vienna under Heimo Zobernig (2007–2012).
Polonca Lovšin (SLO)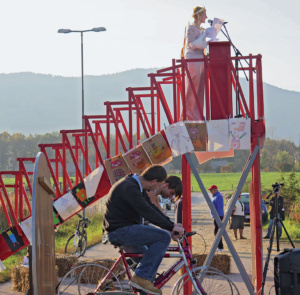 Movement for Public Speech / AT HOME
Max-Wratschgo-Europaplatz
Installation, Performance
A stage with two bicycles, a microphone and a loudspeaker, somewhere in the park. On the stage we see several people working together. Two of them are using the bikes to generate electricity for the microphone; at least one person is speaking. Being connected to create an independent and alternative system, they function like a mechanism, producing their own energy and content—regardless of origin, state policy, economic requirements and other restrictions. The battlefield is constituted of words and language. At times finding the right words can be difficult for locals, uneducated people, working people and new arrivals. It is our native language where we feel at home. Slam poets, rappers, schoolchildren, participants in ISOP language courses and other people from Feldbach are invited to read poems either in their native language or in German. Throughout the entire exhibition period, as long as two persons keep the bicycles moving, the texts recorded at different events on the stage can be heard on a loudspeaker.
Polonca Lovšin works as an architect and artist in Ljubljana. She  investigates the potential offered by alternative and independent transformative systems, focusing her practice on self-organised initiatives and alternative ways of living and working in the context of architecture and urban planning.
Liberta Mišan (CRO)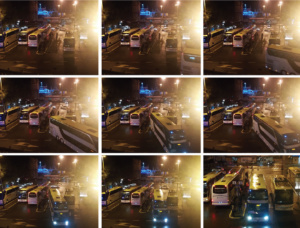 Poetry of broken language
Grazer Tor
Sound-installation
Zagreb, Rijeka, Osijek, Split. A coach station on a typical Sunday evening. Coaches packed with people heading for Vienna, Graz, Klagenfurt, Feldbach. Trains, cars and car pools. Yet another week of working or going to school in Austria is about to start. One of the travellers is Mišan. A fifty-year-old man tells her how he completed a "How-to-learn-German-in-one-month" language course. In a way, Mišan is on the move too and she speaks broken German. In her sound installation she examines the beauty of the will to conform along with integration problems, feelings of sadness at leaving familiar people and things behind, the joy of learning new things and how speaking an unfamiliar language changes an individual. The desire to communicate is stronger than the shame caused by saying the wrong thing or the fear of the unknown. This poetic symphony is recorded in German during several coach journeys from Croatia to Austria, with kind permission of the travellers.
Born in Pula in 1990, lives and works in Rijeka and Istria as a visual artist, theatre scenographer and location scout/manager in the audio-visual industry. She researches the poetics of interpretation from the perspective of phenomenology, making use of various media including photography, performances, happenings and installations.
Maryam Mohammadi (IR/AT)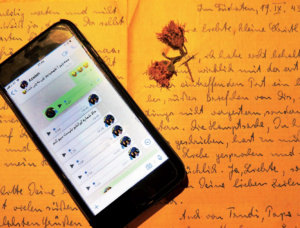 I miss you!
Bismarckstraße 7
Installation, Fotografie
Wars separate people from their loved ones, from their families,
causing them to fear for their safety and protection. In this situation, maintaining communication is vital for overcoming and assuaging the fear associated with uncertainty. During the Second World War soldiers deployed in the middle of nowhere frequently corresponded with their families back home, sending each other photos and parcels and waiting for a sign of life day in, day out. Many of the people who have sought refuge in Styria over the past few years have equally been separated from their loved ones. Typically, it was the men who left their home countries first to seek sanctuary and bring their families to join them later. But the borders were closed and hope turned into despair. Smartphones are the only means for them to remain in touch with each other, to send messages or photos and to listen to each other's voices. In her work, Mohammadi presents past and present messages full of yearning, messages that differ only slightly in their hopes and fears.
Mohammadi worked as a photographer and university teacher in Tehran
before relocating to Graz nine years ago. She was awarded a doctorate
in photography in 2017. In addition to her photographic projects, she is
involved in the DIVAN project and in XENOS – Verein zur Förderung der
soziokulturellen Vielfalt. In her work, Mohammadi examines the social,
cultural and religious conditions which affect women, migrants and "new
arrivals" both locally and globally.
Igor F. Petković (AT/SRB)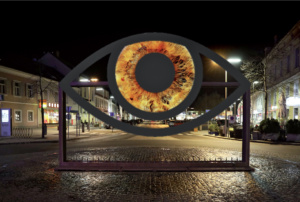 Eye-catcher of history at eye level
Roundabout, main square
Installation
Along the straight axis constituted by the main square and Franz-Josef-Straße we find several locations of momentous importance in local and national historiography: Steinerner Metzen – Marienstatue (statue of the Virgin Mary) – Kirchenplatz – Tabor- Platz – Bertha-von-Suttner-Platz – Conrad-von-Hötzendorf-Platz – Erzherzog-Johann-Straße – Franz-Josefs-Brücke. The central artistic installation is located at the roundabout, right in the middle of the visual axis that extends from the town hall to the train station. The framing structure of the fountain is augmented with a symbolic eye motive. It signifies diversity, visual contact at eye level and a look back into the past and ahead into the future, reminding us not to avert our eyes when history threatens to repeat itself.
Born 1976, somewhere in the Austrian Alps. Visual artist, author, cultural
manager and researcher. Lives and works in Graz, Novi Sad, Pula and other places; studied Slavonic studies, cultural science and photography in Graz, Belgrade, Novi Sad and Ljubljana; participation in various solo exhibitions and group exhibitions worldwide. Producer of international cross-disciplinary projects and intercultural manifestations.
RESANITA (AT)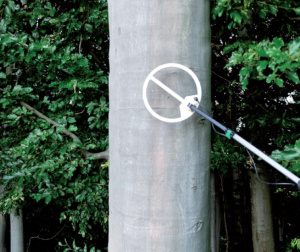 Silent Witness
City-Passage and Museum im Tabor
Videoinstallation
Tracing, mapping, dating and memorization of former locations,
which were branded the same like human destinies, show us basic parameter of permanent and funded work on history. One of those areas range from the municipality of Poppendorf close Straden to Feldbach, were the last fights of the second World War
took place. With detectors, scanners and x-ray devices RESANITA examined trees, which were hit by bullets and shrapnels. Those trees overgrowed the history and saved these items as silent witnesses. As counterpart a spoken memory in a video work shows us the last eyewitness – Maria Gregl – in the Tabor Museum.
RESANITA is the artist duo Anita Fuchs and Resa Pernthaller. They live and work in Graz, Austria. These actions are linked with contemporary topics in society like climate change, terror, migration, history, global economy, and politics. Nature is a prevalent theme.
Nika Rukavina (HR)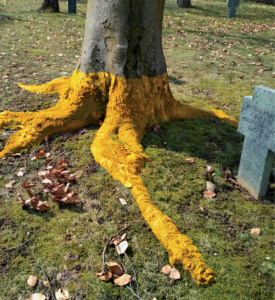 Rooted
Military cemetery Mühldorf bei Feldbach
Intervention
Rooted is an intervention in public space associated with a very
specific aura and symbolism: the military cemetery in Feldbach-
Mühldorf with tombs and memorials dedicated to more than
2,500 victims of both World Wars from several countries. In death,
the differences that divide us during our lifetime disappear; we
metamorphose so as to produce new life and create new roots. In
order to emphasise this process the artist has covered the base and visible roots of the trees with gold leaf. The cemetery in Feldbach-Mühldorf, a place with a rich and varied history in which friend and foe live side by side, allows us to learn the lessons of history to prevent it from repeating itself in future.
Born in Rijeka in 1980, where she continues to live as an artist. Rukavina
works with various media ranging from performances and installations to
painting, sculpture and video works. Her primary concern is to